BREAKING DOWN SILOS FOR GENDER EQUALITY IN COVID-19 RESPONSES
Geeta Rao Gupta is Founder and Executive Director of 3D Program for Girls and Women and Senior Fellow at the UN Foundation
Sia Nowrojee is Program Director of 3D Program for Girls and Women
As the COVID-19 pandemic progresses across the globe, people are not just dying of the disease, but are facing hunger, violence, displacement, discrimination, exclusion and the loss of income and livelihood options. In many countries, COVID-19 prevention measures and responses are simultaneously creating - and are sometimes overshadowed by - more urgent needs, including hunger and intimate partner violence. While in the initial phase of the pandemic, it was logical to focus on the responses of the health sector, it is now clear that in addition to effective, coordinated public health responses, communities desperately need other public services and supplies.
Effective COVID-19 responses, recovery and resilience require convergence between government, civil society and the private sector to leverage an optimal combination of systems and reach, expertise and innovation, and resources. We have seen the positive impact of this kind of cross-sectoral action through our work in India with the 3D Program for Girls and Women, which was developed to address persistent limitations of development programs caused by working in silos and ad hoc engagement between government and other stakeholders.
To reach communities at scale in a sustained way, it is critical that government take the lead. COVID-19 has shown the weaknesses in systems that have permitted the privatization of public services and goods in delivering basic, emergency and last mile services. It has also highlighted the continuum of need for strong public health services that are linked to well-resourced, nimble education systems, along with inclusive housing policies, quickly activated financial safety nets, rights-based policing, far-reaching communications infrastructure, and effective and inclusive emergency responses.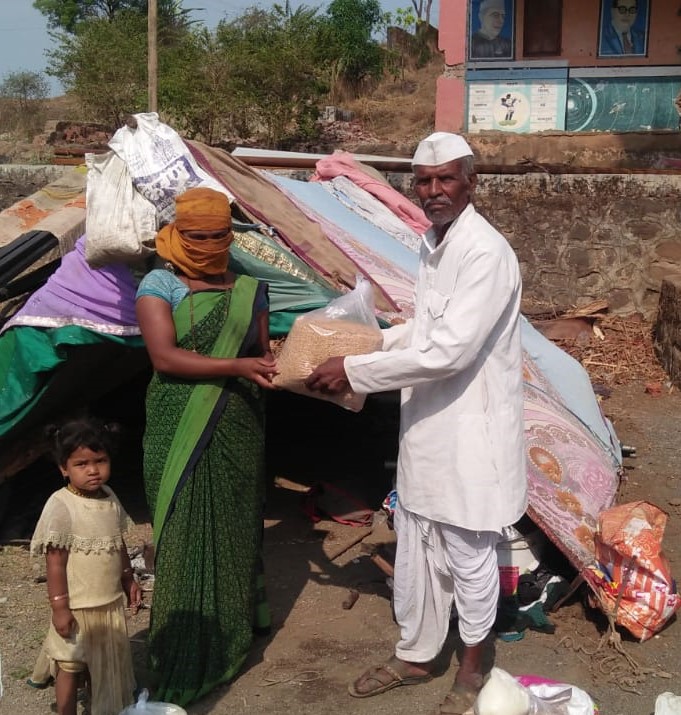 3D Program village committee members distribute food grains provided through a state government relief program to migrant workers stranded in Kharoshi Village, Pune District due to the government's lockdown order. Photos by Shailaja Aralkar.
This is a tall order that requires cooperation across departments and different levels of government. While challenging, it does not necessarily have to be cumbersome and it can have great returns. With clear leadership, coordinated action and a common vision, the outcome of this effort is often greater than the sum of its parts.  We also do not have to reinvent the wheel. The 3D Program has adapted the methodology of collective impact to put government in the lead, catalyzing greater coordination between departments and between levels of government to improve outcomes for girls and women by calling attention to gaps and quality deficits in government programs and services. This has ranged from advocating to improve quality and choices in menstrual hygiene management to synchronizing public transportation and college schedules to create safe transportation options so girls can continue their higher education. We have found that when convergence is driven by demand, the government does respond.
To have maximum impact, however, government must link with civil society actors. NGOs with strong community ties and trust can inform the development of COVID containment strategies based on realities on the ground rather than blanket guidelines. We are finding that our existing collectives and networks of women, such as village collectives, self-help groups and informal workers unions, that were put in place by our NGO partners to mitigate gender-based and other disparities, are now proving to be critical conduits of information, services and supplies in COVID responses, reaching the most vulnerable in both rural and urban settings.  Members of our village women's committees are involved, alongside local government, in the distribution of emergency rations to communities and migrant workers. Decentralized service centers put in place to help women informal workers access government programs are now facilitating information sharing on COVID-19 and access to emergency relief services.
Another key stakeholder, the private sector, brings important innovations, supply chains and resources to the table. Globally, we are seeing the private sector innovate around medical technologies and responses as we grapple with the dynamic nature of the virus. They are also partnering with government and civil society to raise awareness of socio-economic issues related to the pandemic. Corporate social responsibility initiatives are mobilizing to respond to emergency needs and as governments focus on public health, are often filling the gap to provide life-saving food, online educational tools, and other resources. Coordination with government systems and civil society networks can help maximize these assets and transform them from emergency responses to integrate them into longer-term resilience planning.
Nowhere is convergent action across sectors and stakeholders more important than when addressing the multidimensional nature of gender inequality in the COVID context. Evidence on how gender disparities are playing out in the pandemic indicates that women are facing significant and specific health consequences, economic impacts and security risks. We are seeing significant health risks faced by frontline and support workers in health services, most of whom are women; the loss of income for women who hold the majority of insecure, informal and lower-paying jobs; an increasing burden of unpaid care work that girls and women already do; alarming increases in domestic violence; and a detrimental impact on the delivery of reproductive and sexual health services that women depend on. Recent estimates from UNFPA indicate that 47 million women from 114 countries may be unable to access modern contraceptives if lockdowns continue for six months with disruptions to health services. Our partners in India confirm that ASHA or community health workers who distribute contraceptives and subsidized sanitary napkins and provide maternal health care are now consumed with COVID-19 related services, making it challenging for girls and women to obtain essential supplies and services. We know from the experience with Ebola in West Africa, we know that the number of women who died in childbirth increased by 70 percent when resources were diverted to response efforts. We also know that when women are able to earn and save assets, they gain mobility and self-confidence and are better able to protect themselves from violence. Losing that ability can be devastating. We also know that child marriage increases dramatically during emergencies. Our partners confirm that risk factors for early marriage, such as poverty, insecurity and lack of education are now exacerbated by current public health responses to COVID-19.
If we fail to act in a coordinated, multisectoral way, we will further compound the impact of the COVID crisis and undermine precious progress that we have made on gender equality. We need convergent solutions that draw on the ideas, systems and resources of government, civil society and the private sector to give girls and women the vital tools and options they need to protect themselves during and beyond this crisis. If we close the enterprises that women typically work in, we must provide financial safety nets. If we ask women to stay at home with their abusers, we must provide the phones they need to access online resources, as well as lifesaving shelter, should they need it. If we ask girls to study online, we must give them the time, devices and Internet coverage they need to do so. If we divert health services and personnel to focus on COVID-19, we need to engage alternative distribution chains and service options to provide other essential health services. This is not business as usual and it is unlikely that it ever will be again. We need to think outside the box and getting out of our respective silos to work together for girls and women is a critical first step.
May 2020