DREAMING BIG AND BEATING THE ODDS:
MEET THE CLASS OF 2020
Kagad Kach Patra Kashtakari Panchayat (KKPKP) is a waste pickers' union based in Pune, India, and a partner of the 3D Program
As the city of Pune in Maharashtra, India shut down for the fifth time since the start of the COVID-19 pandemic, the release of the Maharashtra State Board of Secondary and Higher Secondary Education exam results opened up new possibilities for the children of waste pickers in Pune.
All parents hope for a better life for their children, and waste pickers are no different. While they are not ashamed of the work they do, they want to give their children more options. Sunita and Asha are members of the waste pickers' union Kagad Kach Patra Kashtakari Panchayat (KKPKP) and cooperative SWaCH. Sunita, a single mother, taught her son early in life that perseverance was the way to counter failure, and Asha encouraged her daughter to study science, without any support from those claiming to support women in STEM. These kinds of aspirations have not been dampened, even during the challenges caused by the COVID-19 pandemic. Waste pickers like Sunita and Asha were declared essential workers in Pune city early in the pandemic, and they have continued their work, determined that their children would carry books, not garbage.
The pandemic has disrupted children's studies around the world.  As in many places, schools in Pune have moved online. Waste pickers, who could barely afford notebooks, now must buy smart phones, tablets and laptops for their children to attend classes. Despite being essential workers, many waste pickers have had their livelihoods disrupted due to the shutdowns and quarantining of whole neighborhoods. There is an urgent need for support, including used and repairable devices, to help children access online programs.
Eligible children of waste pickers who are particularly vulnerable or experiencing hardship are supported by KKPKP to secure educational scholarships through their Kashtakari Seva Kendras or workers' resource centers, conveniently located in the neighborhoods where they live. The scholarships come from both government and private programs and are no more than USD 100 per year per student. While this may seem like a small amount, combined with the hard work and determination of these students, it makes a huge difference, creating pathways for significant social and economic change within just one generation.
In fact, the children of waste pickers were strongly represented in the graduating class of 2020. Of the 76 KKPKP kids (41 girls and 35 boys) who took the exams, 81 per cent passed, and the remaining are eligible to retake the exams. Of these, 59 per cent studied Commerce, 33 per cent studied Arts, and the rest studied Science, Mechanical Engineering and Vocational programs. These are just some of their stories.
---
GAURISH SANJAY RAJGURU
Gaurish is like any other teenager - hopeful, enthusiastic and with multiple interests. Yet in her quiet determination you can see her serious commitment to her career and future. Having scored 78 per cent in Arts, Gaurish is over the moon yet her feet stay firmly on the ground as she talks about her struggles and the future. Her mother Shobhana is a waste picker who dropped out of school in grade 7. Shobhana was immensely proud when Gaurish secured admission to Fergusson College, one of the best colleges in the city. Its founders were pioneers of the Indian National Congress and it counts among its alumni several freedom fighters, ministers and legislators, including two Indian Prime Ministers. Like these luminaries, Gaurish has big plans. "I will be studying either history or sociology for my bachelor's degree and then plan to take the Union Public Service Commission exams. I want to become an officer in the Indian Administrative Service."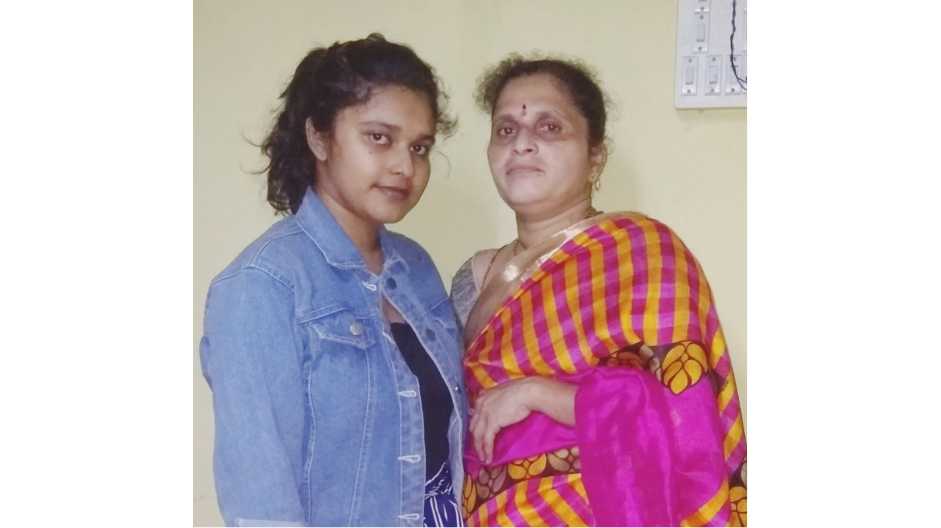 Graduate Gaurish Sanjay Rajguru with her mother, Shobhana.
Photo from the Rajguru family, 2020.
---
ARVIND GAUTAM JAGTAP
Arvind lost his father when he was just 2 years old, and was raised by his mother Sunita, who is a waste picker. Arvind says, "Growing up we didn't have much, my mother had to work very hard to make sure we were fed and went to school."  Arvind's story is one of perseverance. He failed his exams last year. His mother Sunita says, "He failed but I told him that he must continue studying. There was no question about it. There is no substitute for hard work, and I knew that if he put in the effort, he would pass." This year, taking advantage of his eligibility to retake the tests, Arvind passed his exams and has ambitious plans for his future. "I can think of what to do next and look to the future. I am happy that I saw this through because once I have my school graduation certificate, a lot of possibilities open up. I want to enrol in the police force, that's my long-term goal. I know it's not going to be easy, but then nothing has come easy. All I can do is work hard and hope for the best."
Graduate Arvind Gautam Jagtap with his mother, Sunita.
Photo from the Jagtap family, 2020.
---
ANIL SHARAD KALE
Anil is the first child in his family to finish Junior College, passing his exams in vocational studies. His mother, Rupali, was a child labourer and had to drop out of school. Her husband passed away in 2008, leaving her to care for four young children. Despite this hardship, she had big dreams for her children, dreams which paid off. "Anil was always interested in education and with the support of KKPKP and his residential school, I knew he would do well!" she said proudly.

Graduate Anil Sharad Kale with his mother, Rupali.
Photo from the Kale family, 2020.
---
GAURI LAXMAN PULAVALE
Gauri is one of the few students who opted to study Science in junior college. "I have always been interested in the working of the human body, so I wanted to do something in the medical field. Science was therefore a natural choice." A hardworking and committed student, Gauri dreams of becoming a nurse. "I want to help people and have an interest in medicine. With the current pandemic, there is also a need for medical personnel." Living in the densely populated Yashwant Nagar slum of Yerawada, Gauri says she had a tough time concentrating on studies. "I would wake up before everyone else and start studying. I would also study late in the night, and that helped." She is currently preparing for the NEET and CET entrance exams. "I know the exams have been delayed, but that only gives me more time to prepare." Her mother Asha believes that rather than let her circumstances pull her down, Gauri uses them as motivation to do better and better. Gauri agrees, saying, "I didn't get the best or highest score, I know that, but that only pushes me to study harder and get better marks."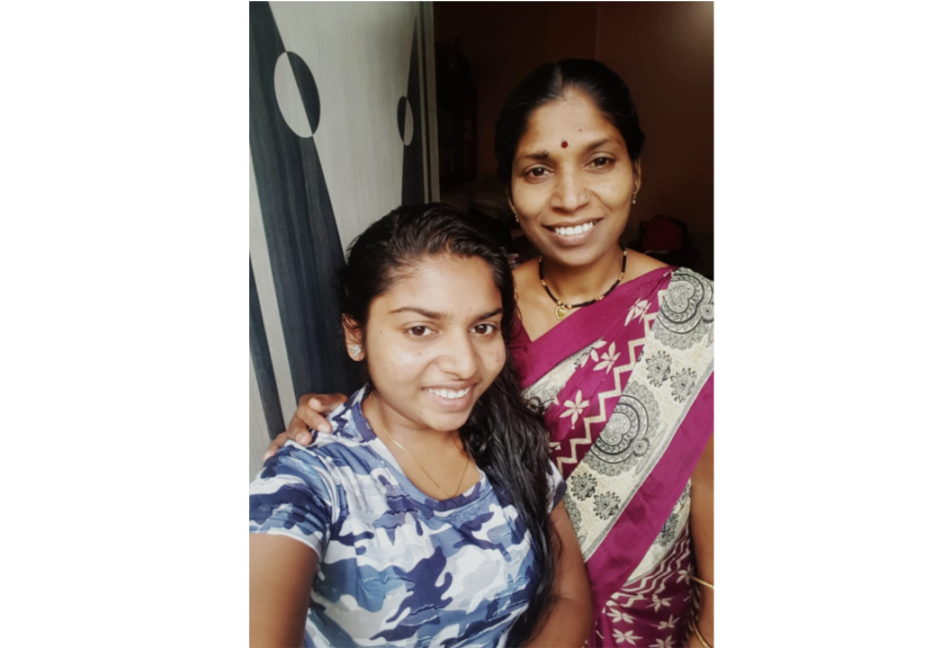 Graduate Gauri Laxman Pulavale with her mother, Asha.
Photo by Gauri Laxman Pulavale, 2020.
---
To support the work of 3D Program partner KKPKP, please contact their office in Pune, India at +91 5800 7062 or kashtakaripanchayat@gmail.com.
July 2020