THE DAY IN THE LIFE OF A WOMAN:
MAPPING RISKS AND ACCOUNTABILITY IN PUBLIC SPACES
Sia Nowrojee is the Program Director of the 3D Program for Girls and Women
Kali Shebi is a Senior Associate of the 3D Program for Girls and Women
---
Women in Indian cities and rural areas experience harassment and assault in public spaces during the day and night, in secluded and crowded spaces, and in low- and high-income areas. In Delhi, a staggering 90 percent of women reported experiencing sexual violence in public spaces. A baseline study in 16 villages in Gujarat found that over 48 percent of adolescent girls and 40 percent of women reported experiencing sexual violence in public spaces in their lifetime. Just one fourth of women respondents and one fifth of adolescent girls in the same study rated public spaces in their village as totally safe.
Mapping can help identify 'hotspots', or places where girls and women feel unsafe, providing useful, and often missing data to inform individual decisions, and community, government and police responses. Data from maps on safety apps, such as Safecity and Safetipin, as well as from community safety audits and mapping, is now being used by individuals to plan their journeys through public spaces, by police to plan their patrol routes, and by communities to improve safety and infrastructure.¹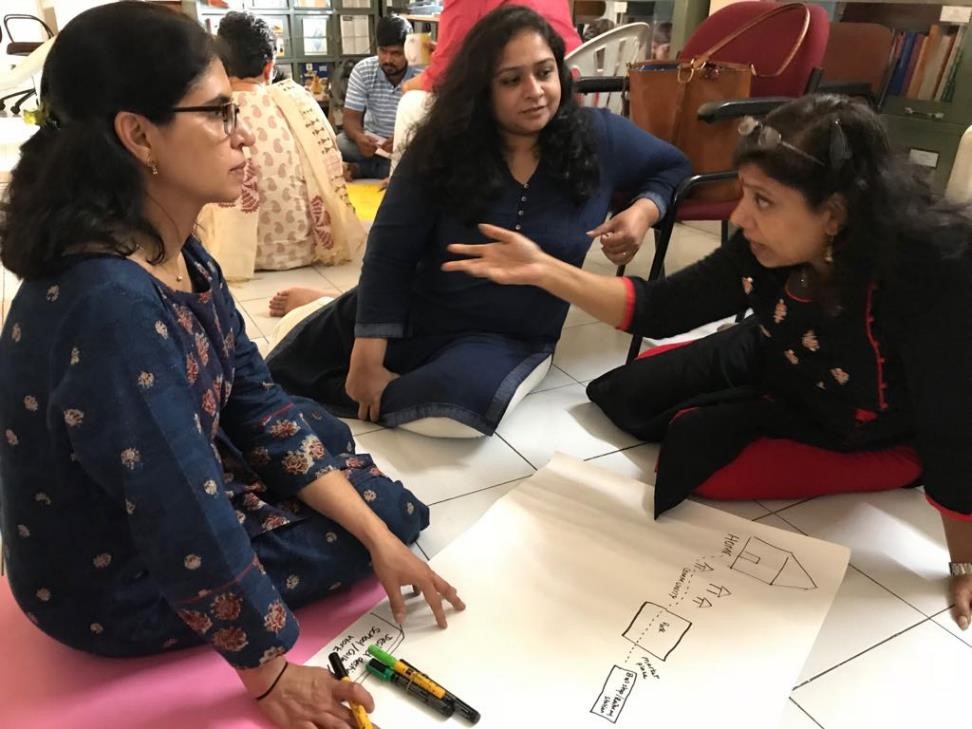 Photo by the 3D Program, June 2018
However, even with this data, the lack of clear accountability by bystanders and officials alike leads to missed opportunities for public officials, communities and individuals to adequately prevent and respond to violence against women and girls (VAWG) in public spaces. Ironically, there are actually clearer lines of accountability for public officials addressing interpersonal violence or violence in private spaces. Lines of accountability in public spaces are dynamic and remain unclear. Girls, women and authorities themselves require clarity. For example, what happens if harassment begins outside a railway station, continues on the station platform and culminates in an assault on a train? Who should be approached for help? Which helpline should be called? Which authority is accountable? Because for each location, the authority accountable is distinct.
In June 2018, the 3D Program for Girls and Women, hosted by our partner MASUM in Pune, facilitated a public safety mapping exercise, with representatives from several NGOs, including MASUM, Ashta No Kai, ICRW Asia Regional Office, Safecity and Swissaid India. Participants were asked to envision a typical day in the life of a girl or woman, beginning as she left her home and ending at a final desired destination, school, university or work, for example. They were asked to draw maps and identify hotspots, and for each hotspot, to map accountability. This meant clearly identifying the person or institution responsible for safety in that area. One group worked on a rural map, the other on an urban map. The maps confirmed that while the contexts differ, in both rural and urban areas nowhere is safe for girls and women. Hotspots exist across the continuum of their daily journeys. Both rural and urban public spaces also share the complexity of having multiple authorities accountable across different sites.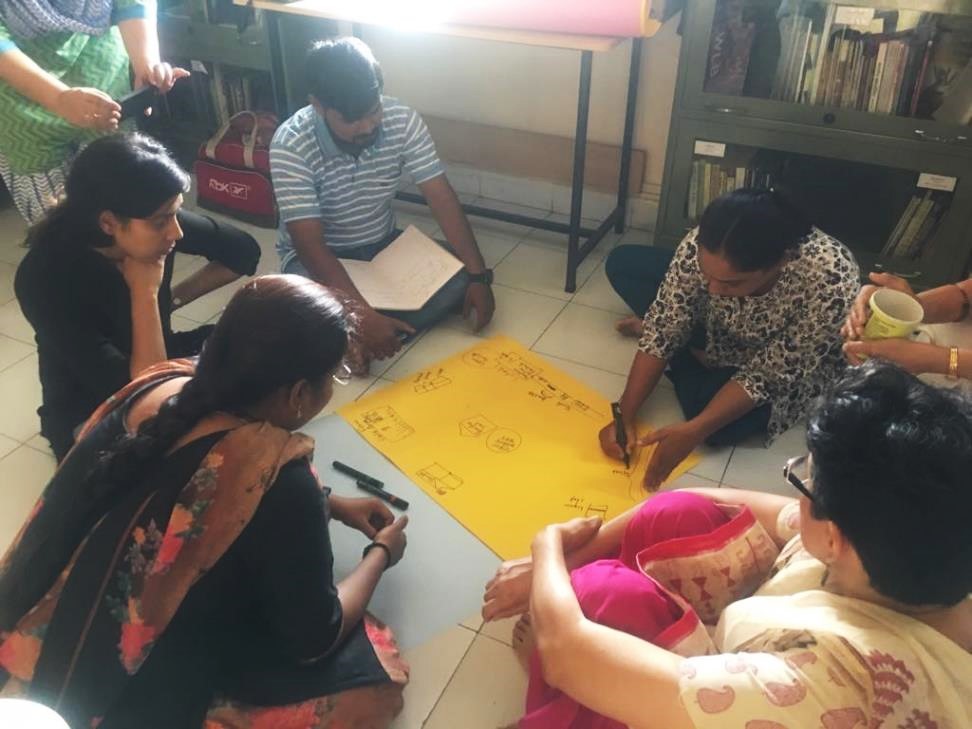 Photo by the 3D Program, June 2018
Accountability mapping could prevent VAWG, enable girls, women and witnesses to know who to contact in the event of an incident, and empower officials to act with authority and clarity. It could also provide the foundation for how each authority can connect and work with their counterparts in adjacent spaces to ensure girls and women's safety through the continuum of public spaces. The 3D Program is working with our partners in both rural and urban Pune to raise awareness of the need for greater accountability and to create convergent platforms that can work to explicitly identify and hold responsible officials and citizens accountable across public spaces. Until this happens, we are all just bystanders, witnessing the violations girls and women face every day but failing to stop them.
Urban mapping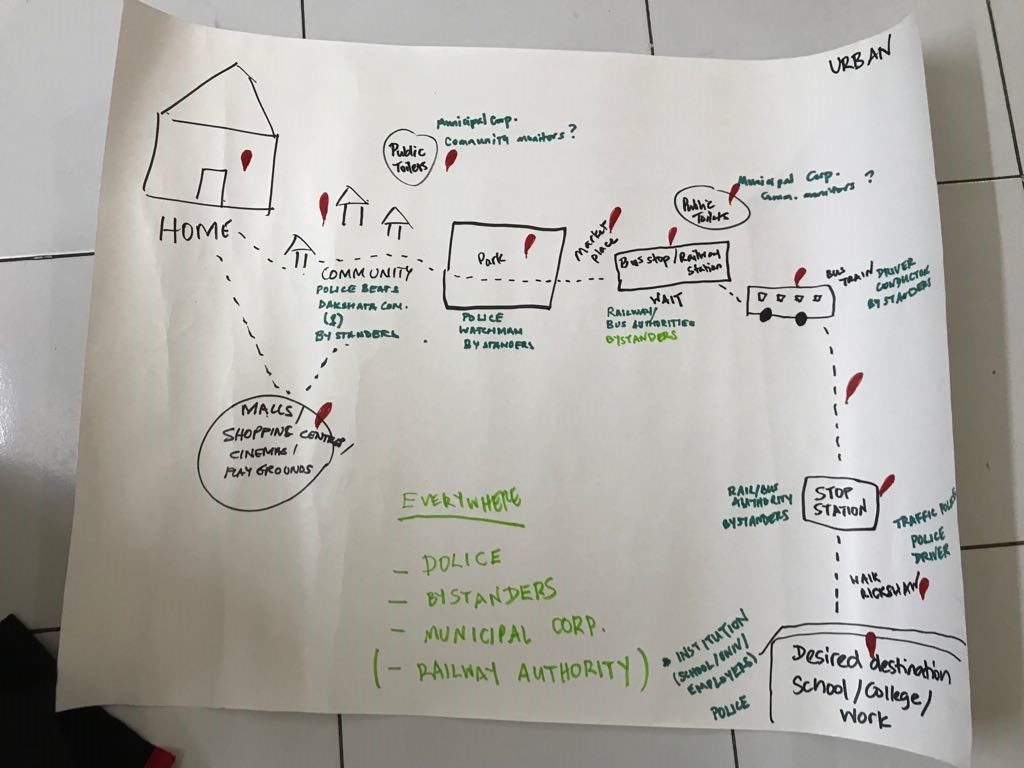 Urban mapping highlighted hotspots in red along the route from home to a desired destination (school, college, work) and included pathways through communities; public parks and facilities, and transportation hubs (bus stop or railway station); routes and transit points. The accountability mapping revealed officials and bystanders with overall responsibility, such as the police and municipal corporation officials, as well as those responsible for safety at particular sites, such as the park watchman, sanitation committee members, the railway authority and the bus conductor. Participants felt that bystanders should be held accountable everywhere. Photo by the 3D Program, 2018.
Rural mapping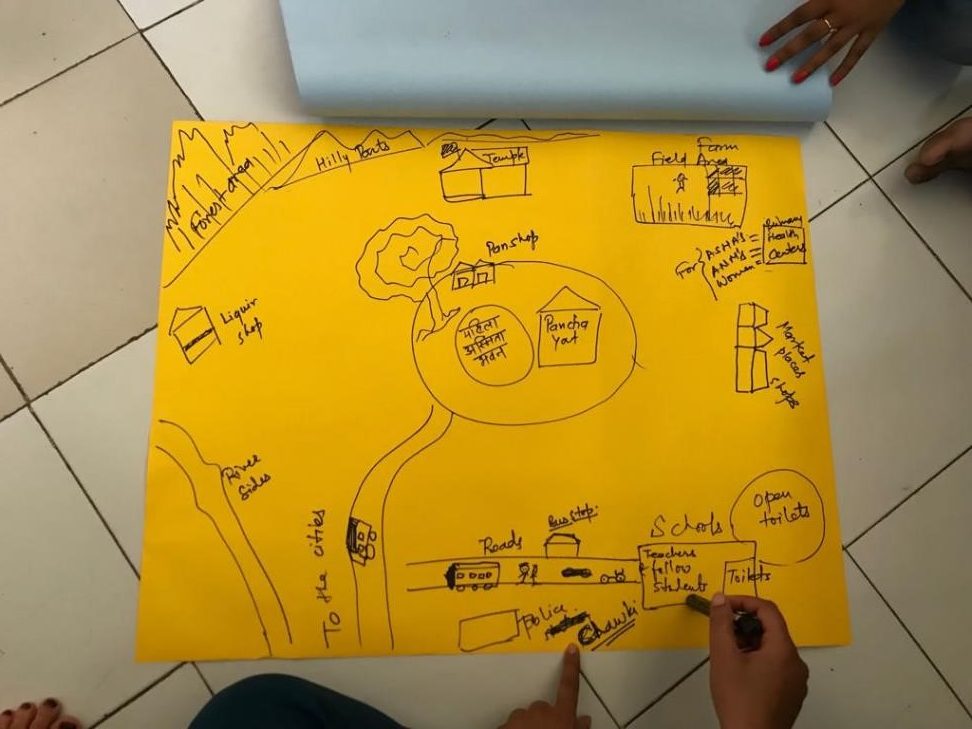 Rural mapping highlighted hotspots ranging from open fields and areas where water is collected, institutions and facilities, including schools and shops, and particular routes in and out of a village. The accountability mapping revealed various levels of officials, including panchayat officials focused on health, sanitation, public works, and women's issues, the police, different departments such as Women and Child Development and the Health Department, and Block officials. Photo by the 3D Program, 2018.
¹MASUM. (2018-2019). Mapping of Public Safety for Young People, Especially Girls, in Purandar Taluka. Pune: MASUM. Unpublished manuscript.
---
May 2019