STORIES OF COURAGE: WOMEN WORKING IN THE TIME OF COVID-19
Lakshmi Narayanan is a Co-Founder of the SWaCH Cooperative
In the time of COVID-19, when people are afraid to come out of their homes, meet their closest friends and relatives and go about their daily routines, several communities are on the frontlines, facing the risk of contracting the virus, resistance from their families, and their own fears, to ensure they deliver on their work, diligently. The waste pickers in Pune City, Maharashtra State in India are one such group. Maharashtra is one of the hardest hit states in India. Organized by the union Kagad, Kach, Patra Kashtakari Panchayat (KKPKP) and the cooperative SWaCH, the waste pickers provide an essential service for the Pune City municipality. Over 3,800 of them service around 850,000 households of the city daily, collecting waste from each doorstep, and either composting it or taking it to secondary collection points.
About 80% of all waste pickers in the city are women. Each morning, the otherwise empty streets of Pune are dotted with the familiar SWaCH pushcarts, with the ever-efficient waste pickers in their blue and green jackets, going about their work. Here are some of their stories as they navigate the risks they face in their work as informal, essential workers.
---
Quit your Work or Move!
Anjana Ghorke had to move out of her home after her landlord demanded she do so if she was going to continue working as a waste picker. As a SWaCH member, she serves over 350 homes in Hingne Mala slum in Hadapsar, Pune, serving the city and citizens who depend on her to keep their surroundings clean and hygienic.
Anjana had always had a long and inconvenient commute to work. Despite the uncertainties and lockdown measures that came when COVID-19 hit, she continued to commute to Hadapsar, paying to commute and explaining to officials who stopped her that she was an essential worker. Her clients would not hear of her stopping work and implored her to continue, as they had no other option to ensure that the waste did not stagnate in their homes and cause further health problems.
"It was tough, but when you commit to a job, you cannot break that commitment just like that. I was willing to take the hit, but my neighbors got antsy and my landlord asked us to quit the work or move. I chose to move," she says.
She left her home with just a few bare essentials, as there was no way to transport her belongings, locking it behind her. She found a place closer to work and continued without missing a beat.
"There was no option. I have to pay my rent in both places, but I am hoping this is just for a couple of months," she shrugs.
At age 57, Anjana has fended for herself most of her life with no help from her children or anyone else. As a low-income Dalit woman, facing discrimination is nothing new to her.
"I will continue to work till the day I can. I understand the importance of the work I do especially in these times. There was no way to get anyone else to do this work temporarily as getting people to work in waste is not easy at best of times. Now everyone is afraid as we are highly vulnerable too as essential workers. We take all precautions but I can understand the fears of others. How could I quit?"
---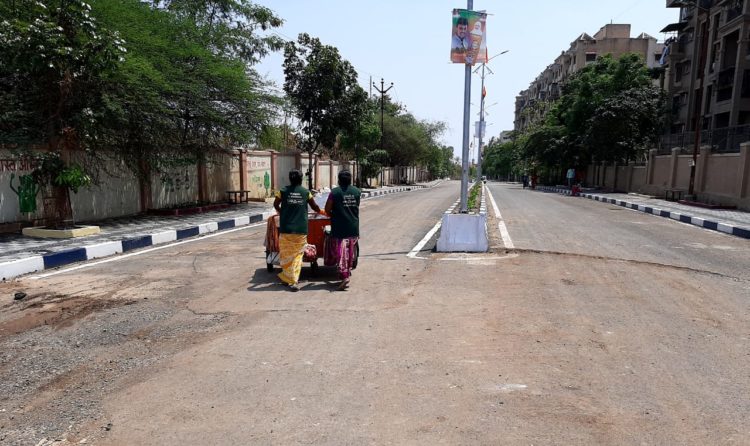 ---
The System Depends on Me
Surekha Lala Gaikwad from the Indira slum in Aundh is a member and board member of SWaCH. She sat down with me to share her fears, doubts, confidence and funny-sad experiences as a waste-picker providing door-to-door service in the time of COVID-19.
"Of course, we are scared; my elderly mother-in-law lives with us, my house is so small and we are so many. It is difficult to keep all the surfaces clean and keep washing our hands. Some of the people in the slum had barricaded it and said no one should go out to work. But I know that if we don't go, there will be even worse health hazards than COVID19! So, I am extra careful. I use all the safety gear that SWACH worked so hard to get for us- gloves, masks, soaps, wash my hands regularly and follow all the instructions I hear all the time.

It is funny how we are scared while knocking on the doors, because we wonder which of these people has come from abroad, unknown to us, and whether they have even reported themselves. And yet, when we see the faces of the citizens through the bars, (they don't even open the doors sometimes), we see fear on their faces! Doubt about what surfaces we may have touched, and what viruses we may be carrying!

On the flip side, our work gets over fast. People who used to keep us waiting while they brought the waste out, now leave it out for us so that we don't ring their doorbells and contaminate another surface! I am not complaining about that, it helps us finish work faster! Some citizens have been particularly sensitive - one of them gives me a glass of lemonade every day to fight the heat. And perhaps that helps build my immunity too!

In any case, drink or no drink, fear or no fear, foreign-returned or local, I will continue to service all the citizens I collect waste from. The system depends on me and thousands like me. How can I let them down?"
---
One Good Turn Deserves Another
Lakshmi Kashinath Chavan of Rajiv Gandhi Nagar, Topkhana, Shivajinagar shared the following story:
"I have not missed a single day of work since the lockdown, since I understand how important my work is, even if most of the citizens I serve do not. It is too big a risk to allow waste to collect, and potentially cause other diseases, so along with the 3,800 other members of SWaCH, I have brushed aside my fears and step out every morning. I go to work and return, avoiding any other detours.

We have been unable to sell scrap, and therefore our earnings have taken a big hit. Our union is committed to ensuring each of us gets the dry ration kit of food that we are entitled to. On Friday, I went to collect my rations and started my walk home. Just a few steps ahead, I saw a woman dash by in a two- wheeler, dropping her purse. I yelled out to get attention, but she didn't hear me.

I was in a turmoil, afraid to risk losing my rations, and yet unable to chase the two-wheeler with my 10-kilogram (20-pound) load of rations! Pushing my misgivings aside, I requested someone to guard my rations, and walked to the nearest police station to give in the purse. The policeman opened it, called up the owner based on the identity documents and told her what had happened. She immediately told them to give me a small reward and thanked me profusely! I returned to find the passersby waiting patiently with my ration kit. I picked it up and went home."
April 2020