STRENGTHENING WOMEN'S LIVELIHOODS
As many as 80 percent of the waste pickers in Pune City are women. The solid waste management (SWM) sector therefore presents a significant opportunity to strengthen the livelihoods of vulnerable and economically disadvantaged women and other workers in the waste sector and achieve environmental, health and public safety benefits.
Through MOUs with the Pune Municipal Corporation (PMC) and the Pune Smart City Development Corporation Limited (PSCDCL), in partnership with the waste pickers trade union Kagad Kach Patra Kashtakari Panchayat (KKPKP), the waste pickers cooperative SWaCH and the Centre for Environment Education (CEE), the 3D Program is facilitating the development of a city-wide, zero-waste,  sustainable and pro-poor public-private solid waste management (SWM) platform that leverages and strengthens components of an existing partnership between PMC and SWaCH.
Under the proposed SWM entity:
Waste pickers will be recognized as workers and the SWM entity will have the mandate/obligation to ensure that their work conditions are decent, based on the parameters of decent work set out by the International Labour Organization.
The earnings of waste pickers from collection fees and sale of materials will compare favorably with the prescribed minimum wage for this work.
Opportunities will be generated for waste pickers to build skills and progress professionally within the system, including to other waste-related activities such as pre-processing of dry waste, transport/logistics, and operating scrap shops.
---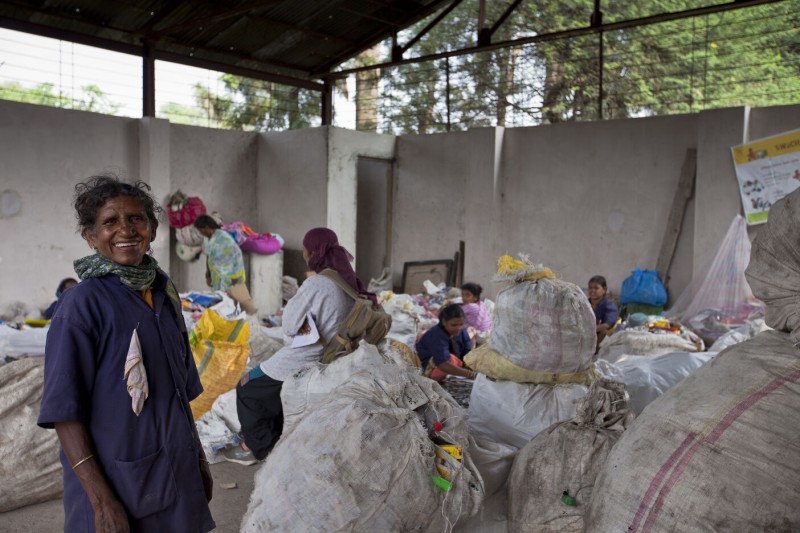 Waste pickers with the SWaCH co-operative working from a sorting facility. Photo taken by Amit Thavaraj, October 2011. Used with permission from SWaCH.
---