MAKING CONNECTIONS: 
AMPLIFYING GIRLS' AND WOMEN'S VOICES AND STRENGTHENING SYSTEMS
In rural Pune District, through an MOU with the Zilla Parishad, Pune, and in partnership with NGOs MASUM and Chaitanya, the 3D Program is facilitating convergent processes that bring together girls, women and community government workers at the village level, different government departments at block and district levels, and representatives of government, civil society and the private sector through a three-tier mechanism that facilitates accountability from the bottom up, creating much-needed links between village-level realities, block-level problem-solving and district-level decision-making.
The 3D Program's approach facilitates accountability by amplifying the voices of girls and women at the community level to ensure that their experiences of government programs and their priorities inform responses and planning by government at the block and district levels. The mechanism allows for much-needed feedback loops between girls and women at the community level and decision-makers at the block and district levels, strengthening government programs and accountability.
The 3D Program is currently implementing the model in two blocks or talukas, Purandar and Khed in rural Pune District, and will be scaling up the model across Maharashtra State.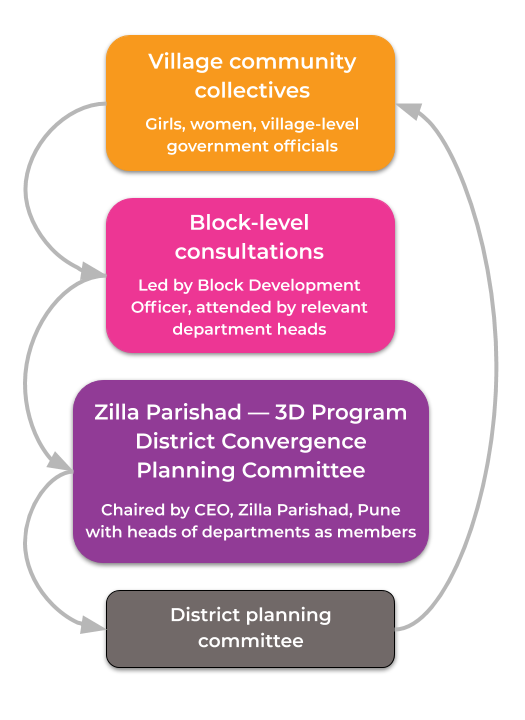 The 3D Program's three-tier accountability mechanism connecting girls and women at the village-level to government resources and support at the block and district levels