HOW GENDER BUDGETS CAN HELP IN COVID-19 RECOVERY
Sanskriti Menon is Senior Programme Director with 3D Program partner Centre for Environment Education
---
In the first quarter of every year, the Pune Municipal Corporation finalizes the public budget for the coming financial year, beginning in April. It has been a tough few months for everyone, but especially so for urban poor women working in the informal sector. All the more reason then for public budgets to allocate and use resources efficiently to help in their recovery.
The new normal imposed on us by the COVID-19 pandemic has meant difficulties in access to food and rations, and in a range of domestic and work situations. Many have experienced a loss of income, ranging from full or partial job losses and the displacement of workers by private sector contractors taking up services previously provided by informal workers, such as waste collection services. In informal occupations such as domestic work, street vending and waste collection, the workers, who are largely women, are exposed to greater risks impacting their own health. Solutions like home quarantine are not feasible in crowded slum habitations. With schools closed and lack of digital access, there is the added worry for children's education and safety. Further, with pandemic-related tasks such as house-to-house surveys allocated to government school teachers, there is no online education. And to make matters worse, with lockdowns and quarantining there has also been a documented increase in domestic violence against women and children.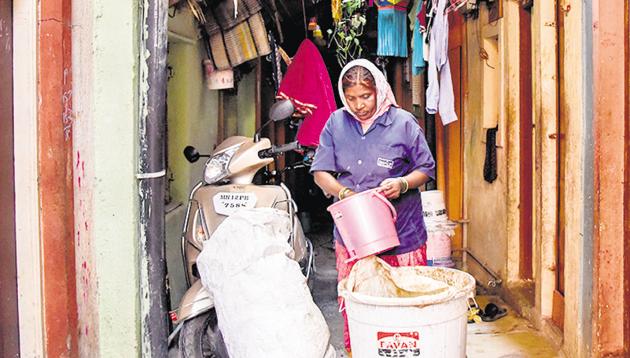 A SWaCH employee collecting waste from a slum in Kothrud. The city's gender budget should improve conditions for women in informal occupations who provide invaluable services to the city. (HT PHOTO)
By law, at least 5% of the public budget is supposed to be allocated to a 'gender budget'. What does this mean? I asked Kiran Moghe, Poornima Chikarmane and Lakshmi Narayanan, who have for many years been supporting waste picker women and domestic workers in Pune. Here is what I learned:
At least 300,000 women workers, including waste collectors, domestic workers, street vendors and construction workers, work in public spaces, in Pune, many of them continuing to do so through the COVID-19 pandemic. They provide critical services to the city, its neighbourhoods and families. Supporting them can help improve the resilience of our society as a whole.
These marginalized women need a place to register for work and welfare, build skills, hold meetings to discuss and plan their work. Budgeting to create Women Workers' Facilitation Centers across the city would help their cause.
There is also a need to protect livelihoods and ensure work continuity. For example, continuing to contract SWaCH, a cooperative of waste pickers, for doorstep waste collection provides stability of income for waste pickers and has environmental benefits by supporting the recovery of recyclables. Procuring products, such as uniforms for the waste pickers from self-help groups of home-based workers helps create a circular, sustaining economy.
Studies show that poor women are relatively more dependent than other segments of the urban populace on public transport, as well as walking and cycling for their work and domestic chores. In the upcoming city budget, we would like to see allocations for street development that is sensitive to the needs of pedestrians, and cyclists. Good street design would also make space for street vendors, an important livelihood sector in our city. We also need to increase our public transport services. Lakh ko Pachas, a recent campaign highlighted the need for 50 buses per 100,000 citizens. Using that ratio, Pune should have at least 4,000 buses on the road. The municipal corporations in the service area of the public bus transport utility should provide the adequate funds for the required bus fleet size to ensure safe travel conditions for girls and women, with the added benefits of reducing dangerous air pollution and associated health impacts, congestion and road accidents and congestion.
Working women and families also need child care facilities, including creches and children's centres near their homes and work places, and near or at schools. How wonderful it would be to have well-run learning and play spaces where children can be cared for before and after school hours, even as we wait for schools to re-open. This is particularly important for women workers who have been designated essential workers, such as waste pickers, who have continued to work through the pandemic. Free or highly subsidized child care, that is not dependent on uncertain earnings from informal work, is a critical public service that city governments could enable.
Could a city like Pune, with a multi-thousand crore Indian Rupee (or multi-million US Dollar) public budget, generating several billion dollars' worth of GDP every year, provide these much-needed services and facilities? It must! After all, behind Pune's success as a city, lies the hard work of its informal sector women workers.
Let's hope this year's civic budget will recognize their contributions and invest in their well-being. Doing so will have the added benefits of enhancing overall public well-being and supporting economic recovery and environment conservation.
This article was first published as 'Civic Sanskriti: Why 'gender budget' is key to Pune's well-being' by Hindustan Times, Pune edition on January 5, 2021

February 2021