DREAMING THE IMPOSSIBLE:
NOTES FROM AN INNOVATIVE JOB TRAINING PROGRAM
Sanyogita Dhamdhere is a Documentation Consultant with 3D Program partner MASUM
---
If one sees a group of teenage girls roaming the street, sitting in a restaurant or walking in a park no one can easily make out if the girls are from a rural village or urban town. They are equally engrossed in their cell phones, enthusiastically taking selfies, chatting, singing songs, posting their pictures on social media. The frequency of using social media and the model of the cell phones may differ. The brands of the clothes they wear may not be the same but the pattern and style are hard to distinguish. Teenage and young adult girls in rural areas don't wear sarees at home anymore. All of the girls go to school too.
However, it is still a challenge for rural girls to attend college as money and distance are major barriers; either they have to travel a few hours every day or they have to pay for lodging near school. The increased cost of higher education, along with the expense of travel or lodging becomes a big constraint.
"My daughter, Komal, got 86 percent in the tenth standard and gained admission to the science stream in a college at Baramati where she would have to stay in a hostel. We couldn't decide. Farmers are not sure of their income. If crops are good one year that may not be the case next year. She has two more siblings. We can't afford to spend more on one child's education. We instead had to get her admission to a nearby college in the humanities stream and Komal got disappointed," said Komal's mother.
She shared her thoughts during an orientation session for a residential job skills training program adapted for girls in Purandar block in rural Pune, Maharashtra State, India. Hosted at Shreemati Nathibai Damodar Thakarsey (SNDT) Women's University in Pune, the program is a unique collaboration of partners across sectors between SNDT Women's University, Tech Mahindra Foundation, Mahila Sarvangeen Utkarsh Mandal (MASUM) and the 3D Program for Girls and Women, offering room and board for girls to attend a 50-day job training course with job placement support following the completion of the program, all at no cost to the girls or their families. "When this opportunity came," continued Komal's mother, "we didn't have any reason to say no."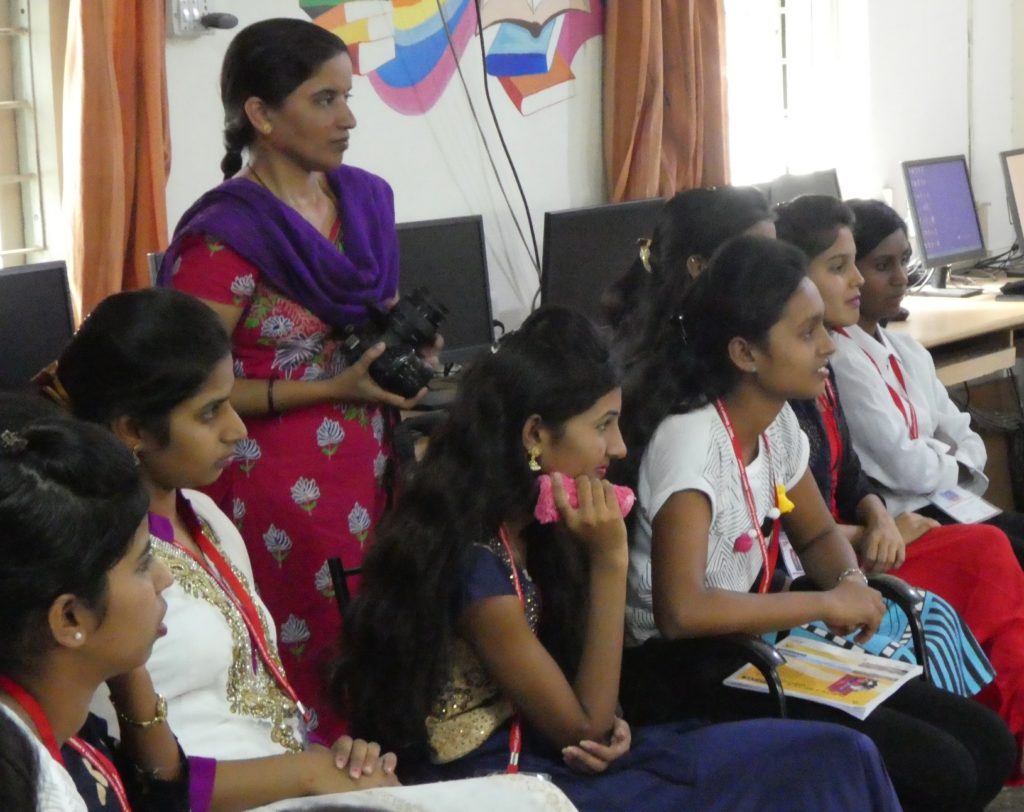 Some of the students enrolled in the job training program during a meet-and-greet session with the 3D Program. June 2019
MASUM carried out an extensive campaign at colleges in Purandar to recruit students. They asked parents to sign a contract, agreeing not to marry their daughters within six months of the conclusion of the program. All parents and girls had to agree they would commit to the job placement after completion of the program. Eventually, 45 girls enrolled in the program.
"We have two objectives: we want girls to get skills training that would fetch them a job, and to stop early marriages," Dr. Manisha Gupte, co-founder of MASUM said. "Girls enrolled for this [program] will be away from home during a crucial time when the majority of girls get proposals of marriage as they are seen at weddings and other functions."
At first, parents of more than half the girls were unwilling to send their daughters to the city for the program. They were apprehensive about the living arrangements, food, and the health of their child. However, they were reassured once they saw the campus and arrangements. MASUM had arranged a special bus to bring all the girls to SNDT, together with their parents, since most of them had never been to the University.
"Earlier I was hesitant to send my daughter far away, but this course has changed my view," continued Komal's mother. "Now I am confident that my daughter can live in a city and can take care of herself well. We talk to each other through video calls every day so there is no anxiety of not seeing her."
For most of the girls, it was the first time they were living independently from their families. Some were not confident they could stay away from their families for 50 days.
Dhanshree noted, "We were a little apprehensive in the beginning. How will our teachers teach? Will they teach whatever they have promised? All those apprehensions went away once the course started and our teachers were good. They not only taught us what they have promised. They are also encouraging us, making everything simple for us."
Many of the girls enjoyed the freedom of living independently and enjoyed their evenings together and studying new skills. "It is not possible in our village to wear the same clothes or live freely like we do here," one of the girls said. "We can't convince people over there. It's the 21st century but village people are not ready for change. In the city we  behave like other girls in the city, we have to change our body language, dressing style or we will be outcast." Aarti Dhumal, a student in the Office Assistant course said, "This course, if not free, may have cost each of us 35 to 40 thousand rupees. Would [we] have got permission if we had to pay the fees?"
All 45 girls successfully completed the program. 11 of the girls were employed by the time the program ended. Three of the girls got admission for the interior designing course and a few were even admitted to SNDT Women's University. All the girls who came to SNDT Women's University for the program either want to continue their studies, or work in Pune.
---
August 2019