District Convergence Planning Committee (DCPC) Launch
Hosted by the Zilla Parishad, Pune and the 3D Program for Girls and Women
The first meeting of the District Convergence and Planning Committee (DCPC) was held on 26 June, 2018, at the Zilla Parishad's offices in Pune, India. Formed through an MOU establishing a partnership between the Pune Zilla Parishad and the 3D Program for Girls and Women, the DCPC will inform district planning and budget processes and strengthen district-wide services for girls and women. The focus of the inaugural meeting was to initiate the DCPC as a platform to discuss and pursue the convergent planning and action for improving outcomes for girls and women in rural areas of Pune District.
The meeting was chaired by Mr. Suraj Mandhare (IAS), Hon. CEO, Zilla Parishad, Pune. Members participating in the meeting included Mr. Vijay Deshmukh, Deputy Collector, Pune, representatives of key departments of the Zilla Parishad, and the 3D Program team and its partners.
To learn more about the the DCPC launch, please read the meeting minutes.
First convening of the DCPC. 3D Program, June 2018.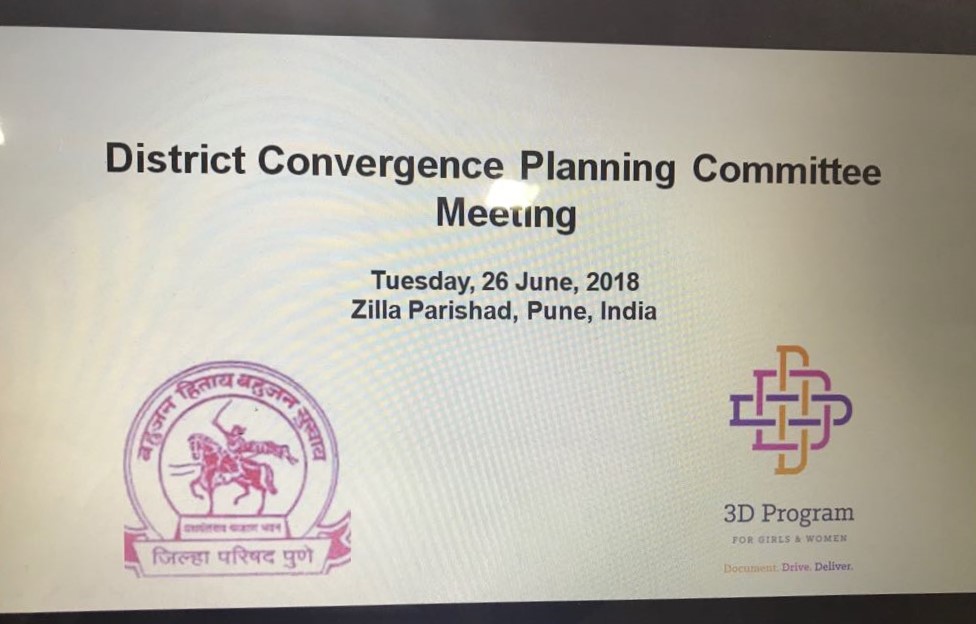 Photo taken by the 3D Program, June 2018.